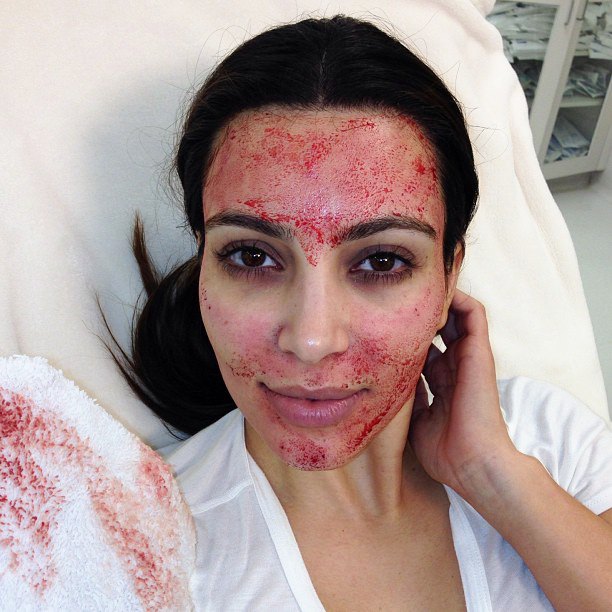 So, we all know Kim Kardashian is someone who isn't shy of the Paps. She's famous around the world and we all know that she has an extensive love of plastic surgery (no matter how much she denies it) She injects her lips, ass and face with fillers and god knows what, but at some point you have to draw a line, right?
Wrong. Kim has now stepped over the line when she tweeted a picture of herself with a face full of blood… WTF? She was sat there smiling away, a towel covered in blood in her hand so I just had to find out what was going on. What the heck had happened?
Vampire facial. Yes, you heard me right. I've heard of some weird things that people do for beauty but this was news to me. I knew vampires were big after the whole Twilight hype, but apparently the trend has now reached Plastic surgeons. So what is this facial and how do I get one? Before you go rushing off hoping to achieve eternal youth from this, listen up. The procedure involves drawing the recipients blood, enriching it with some platelets (English please!?) and then re-injecting it using micro needles into the face!
And if that doesn't put you off Miss Kardashian herself couldn't help screaming out during the blood bath saying "Oh my God. I will never get a face lift if it feels like that".

To be totally honest with you the whole idea of this treatment is making me a little light headed and I've never been one to shy away from a little blood and gore.
The vampire facial is said to smooth out lines and wrinkles and keep the skin looking healthy. In my opinion I'd rather give this a miss and wait for the scientists to bring out some miracle face cream. But we all know I'm not the bravest person around, so are you daring enough to have your blood sucked out, just to rejuvenate your face? Let's see where this crazy trend leads to now.