We've seen luxe sportswear pass by our trend radars a couple of times over the years, but I've always chosen to ignore it. I'm hardly the kind of people who follows exact trends anyway, but I never got the point of this one. I mean, tracksuit bottoms are for exercising or lounging round the house, right?
WRONG! This time around, I've noticed that many companies have upped their game and I've been seeing so many gorgeous varsity jackets! I know I want to get one, but there are loads, so I thought I'd share them all with you :)
Of course I went to ASOS first, and I'm so glad I did. This is your classic varsity jacket, very plain and simple, however, it has leather sleeves! Which makes me love it even more, and kind of makes it stand out in the never ending sea of sportswear! Haha.
You can pair with a faux leather skirt, like in the picture, or pair with jeans for an everyday, laid back look. Of course, a gorgeous pair of wedge high tops will complete the look.
Next up, we have this varsity jacket from Boohoo. The chenille letter adds some much needed detail and the navy colour will go with anything!
I like this jacket in particular as it has a hood; I know what you're thinking, what's so great about a hood? But varsity jackets almost aways just have a collar, so the hood adds some dimension and fullness; And will keep you hair dry in the rain! LOL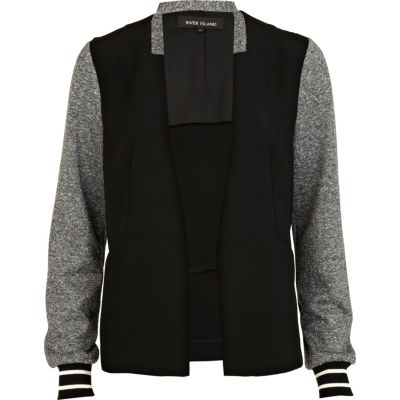 For those of you who don't like the completely laid back look, then this varsity jacket from River Island is definitely for you.
The colour is sleek and stylish, and the style and cut are a lot more professional looking.
Perfect for that luxe sportswear look on a night out!
I do not own any of these pictures, nor do I claim to own them. The rights of these images remain with the photographer/company.