I absolutely LOVE Jeffrey Campbell shoes, they're always so different and they stand out, so this is the start of my little collection. I hope to build it up as time goes on, but some of them are so expensive, and lets face it, as much as I think differently, shoes aren't the most important thing in the world.
HINT! Office.co.uk are always having sales on Jeffrey Campbell shoes, so if you love them as much as I do, be sure to check there. They have a sale on right now as well! Now, onto my shoes :)
These are definitely my go-to shoes, they are such good quality and really comfortable to wear! They required absolutely no breaking in, so I could wear them straight away, and they really fit in well with my style. I love the pointed toes and the silver detailing really makes them stand out and gives them an almost western feel.























I LOVE these boots, I was after a pair of cowboy boots at the time, but decided they wouldn't get a lot of wear due to my style. So when I found these in Office (on sale, yay!) I decided they would be the perfect in-between. They have a 'cowboy' feel, but are perfect for day to day wear.The slight stitching details, the small heel and the antique gold hardware make these a truly gorgeous pair of boots.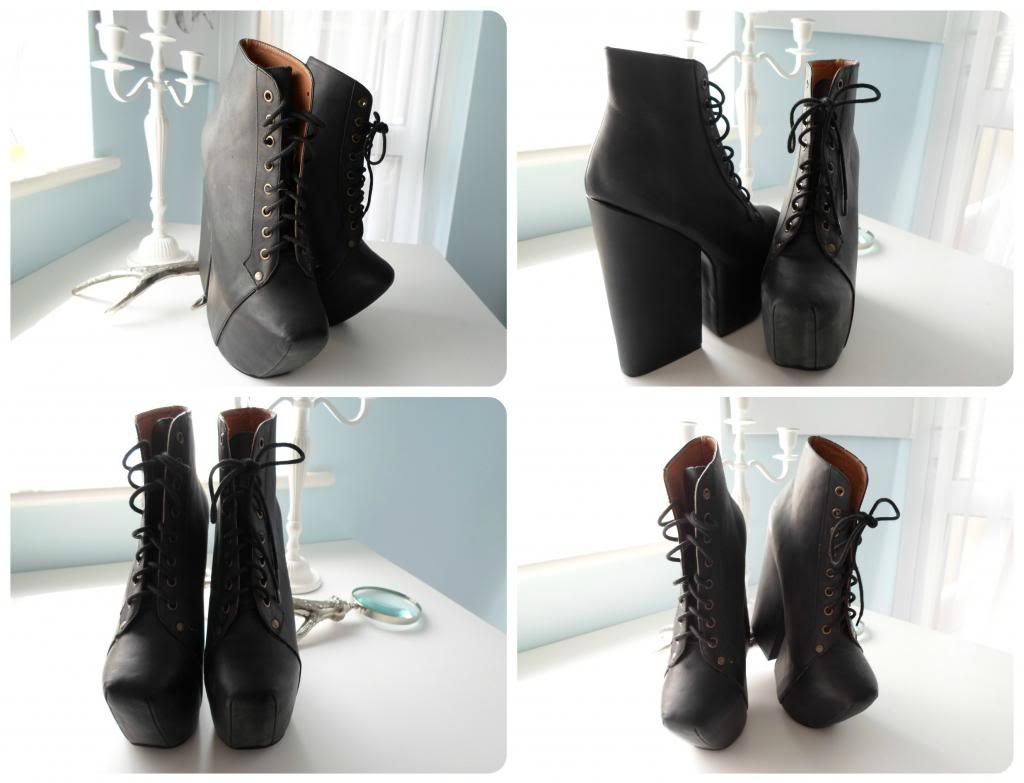 Now these are my more 'out there' pair, they really don't get a lot of wear, but I just could not resist when I saw them for £65! The huge platform and chunky heel really make them stand out, they are so beautiful, my pictures don't do them justice. They are made of a soft, dull leather which will just look more gorgeous with age, and the huge heel make your legs look like they go on forever!
Again, these are a pair that don't get too much wear, as I'm 5'7'' with these huge heels on I tower over everyone else! But I can't deny their beauty, so all these shoes have a place on my bookshelf! These shoes again, have a very large platform and heel, but the curved design really makes them stand out. The metallic leather is gorgeous and the cut-outs make these edgy but feminine. These are great paired with a floaty dress to add an edgy twist!
I hope you enjoyed my collection, I might even show the other shoes that I have on my bookshelf if anyone is interested.
Have a great day everyone!
Disclaimer; Before I start, I just want to say that I am, in no way, bragging about what I have. Everything you see I have saved up for and bought myself, I just want to share it with you all!
All pictures were taken by me and copyright belongs to refusetoconformblog