There was one thing I missed as the Spring rolled around.. Being able to wear my beanie! I basically lived in that thing the whole Autumn and Winter. So as Fall is coming around again, it's time to dig out those hats again and wear them! Nothing can complete an outfit like a good hat can, so these are just a few hat trends that you might want to look out for this Fall.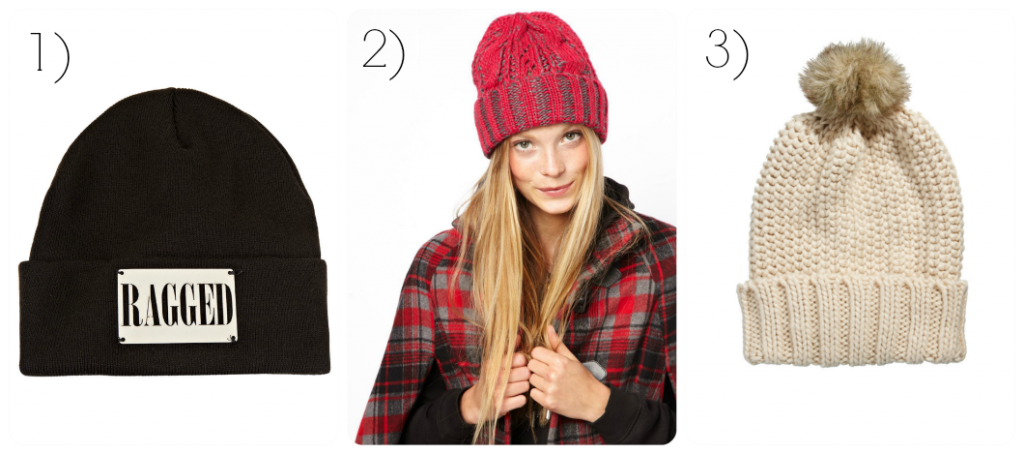 Of course, the beanie! This trend became huge last year, and we'll still be seeing this trend hit large this year, so jump on board (whilst keeping your head nice and toasty) and grab yourself one of these gorgeous hats.
Ragged Priest have some amazing pieces, but one of my favourites has to be this black beanie with metal plating (1), it's so simple, but looks great. If you want a bit more colour go for this beautiful cable knit beanie (2) from ASOS, the colours are just gorgeous, and would look amazing paired up with a minimalistic outfit. Of course for those of you looking for something a little more simple, but still fun, go for this faux fur pom pom beanie (3); The natural colours will allow you to pair this with anything, and it looks so cute on.
Next head trend are these flat peak caps/trucker hats/snapbacks.. whatever you choose to call them! A huge trend throughout the Summer, I don't think these are limited to hot weather, and we'll definitely still be seeing them throughout Fall. Whether you want to go for your classic writing design, with a little leopard twist (4+6), or you want to go for something a little more out there with tapestry and faux leather (5) you're going to look amazing regardless, as these hats suit pretty much everyone.
Finally, one of my favourite Fall trends overall, the wide brim fedora (7). The fedora is such a classic style, and if you choose to buy one, it will be a timeless piece that will see you through many years.
You can't beat a classic black, so I love this one by Catarzi Exclusive to ASOS, and with these I think it's better to spend out a little more as I've found the cheaper ones lose shape easier, or simply don't look right at all. This is the perfect outfit to add an edge to any girly outfit, or to complete that dark bohemian look.
Which headwear trends are you loving for this Fall?
Check out the items in this post: